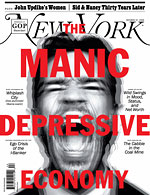 We've all seen
the headlines
.
"Editor Bob Jones laid off." "Conde Nast freezes salaries." "NYTimes lays off staffers."
It's a tough time to be in the publishing industry, whatever the medium.
It's easy to hate on management for this, since they're the ones throwing the switch. Yet the most responsible (public) handling of the economic crisis yet by a media company has been that of
New York
magazine's, who
decided to keep the money flowing
toward its dedicated staff, rather than cutting it off.
It's not as much of a cost-saving move, but to the staff writers who were affected, it's everything. It's a job, albeit not enough of one, in an expensive city. It's the opportunity not to serve lattes while you're planning out your next freelance pitch. It's a safety net. Some money will come in.
At least some money will come in.
It's tough being cut if you're editorial. Your job is to create a publication, not sell ads. Sure, what you produce shouldn't be ad-averse, but when the sales side doesn't make enough cash, you're just as much at risk as they are of termination. And that's a tough pill to swallow, especially when (with a global recession) the whole thing is out of their hands, too.
So I commend
New York
for hanging in there. It's not a popular move from the top -- hell, if they weren't a private company, they probably wouldn't have been able to make such a move -- but to a writer, it's an incredible display of understanding.
You will continue to receive some sort of paycheck. You will continue to have your work published under our notable masthead somehow.
So owner Bruce Wasserstein, editor-in-chief Adam Moss, managing editor Ann Clarke, and whoever else was involved in the discussion, you've shown considerable tact in this move. Everyone expects something to happen, and everyone hopes it isn't them who is affected, but this is saving a lot of face in a lot of places -- even if it's a small staff to begin with.
(It should be noted that not everyone made it this year: there were a handful of layoffs in December, including senior editor Jesse Oxfeld and restaurant critic Gael Greene.)
When every publication in New York City is fighting for the best talent, it's also a good way to keep it in house. I'm continually impressed at the quality of magazine that staff puts out each week (!). Here's hoping keeping most people on board will continue that trend.