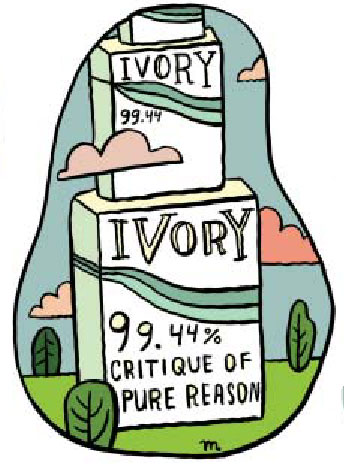 Along with a relocation to a certain radio tower in Times Square this morning, I spent much of my break applying to journalism schools. Say what you want about them, but the experience in immersing myself in that world - the two-headed, slightly mutilated figure of journal-demia - has placed me in such a position that articles about the subject particularly resonate with me.
That said, no less than four stories relevant to j-students popped up on Romenesko today: CCJ Exec. Director Jeffrey Dvorkin's
refinement
of his take on "reverse mentoring," Charles Madigan's
review
of the "despair" of the industry, Sonya Huber-Humes'
understanding
that j-school churns out know-it-alls and Howard Owens'
foresight
in permanently plugged-in journalism education.
Together, they paint a sloppy picture of journalism today: waning hands-on training of entry-level writers; the suppression of a collaborative vision by the individual, leaving the editorial process resembling less of a round-table and more of a production line; the wariness of the industry's future.
In total, it's pretty bleak and not all that conclusive.
The truth is, journalism education is rapidly changing, and the class of 2008 will be markedly different than the class of 2012 in the way it sees the world and acts in it. Same goes for the class of 2020. Whatever j-students learn will end up defining what "mainstream media" is and what it isn't.
So a call to arms is in order for the young j-kids and the old j-regime: educate each other, avoid the mirror and look to the future, and fear nothing along the way.
Journalists spend too much of their little time speculating on themselves, and there's no place it can simmer more than in an academic setting. This has left us with programs across the nation that either won't budge to change or are too scared to.
What have you got to lose? Journalism is in a cold war against itself. History's not gonna help you now.
Remove the word "print" entirely from the course descriptions. Make sure "broadcast" classes are taught as equally with a webcam as with the former standard. Tell photo kids to think in terms of web design, not just how it gets cut up on a galley (and teach them how to use Photoshop!). And for christ's sake, give up the "All The President's Men"-style image. It no longer applies.
The next Bob Woodward won't be wearing a suit. She'll be wearing her underwear.
So journalism schools, think about what's most relevant years from now. Because what's relevant now - or worse, what was relevant 5-10 years ago - won't help graduates. Then instill a core value set of ethics, appreciation for peers and superiors (and underlings), and a lack of fear to package content in a way no one's done before - in a collaboration that says, "I sit in the corner office because everyone else lets me."
That way, we won't be fretting over amending our staid set of principles.