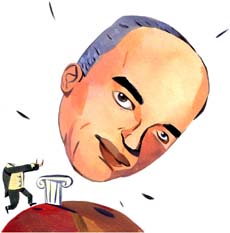 After reading Poynter's Rick Edmonds' refutation of Michael Wolff's Vanity Fair analysis of the New York Times, I feel that Edmonds wrote an evenhanded response to Wolff's "boorish" writing style and assumptions in his piece - but forgot to say whether the NYT really is in a "panic."

I rather enjoyed reading Edmonds' commentary, which outlines how Wolff failed to use hard evidence to back up his assertion that the Times is falling on, well, hard times. Edmonds writes that Wolff is vague on how the Times made media more susceptible to the government, its failure to cover local news and courting of red-state subscribers, and bashes Wolff's unnecessary and excessive trashing of About.com, a website I've found particularly useful (if written simply).

But he fails to really write what the New York Times really is. Edmonds does not write in a brash tone, but he really didn't admit what was going wrong at the Times, either.

Surely there was a reason Wolff even wrote the article?

To be fair, I agree with many of Edmonds' points: Wolff overstepped in his zeal, he failed to admit the value of About.com as a media venture that's isolated from the Times yet much more closely related as the investment of an "information company" and he makes limited/poor examples when backing his claims up. Yet in reading the commentary, I felt the need to ask: Is Wolff right that reaching across the country could hurt the NYT's liberal voice? Is he right that its local coverage, while comprehensive, just isn't as up-to-date as the multitudes of local blogs are?

Put it this way: Aside from your qualms with Wolff's delivery, is there indeed some feeling of confusion, panic, or pending crisis at the Times?

That's what I'd like to know.